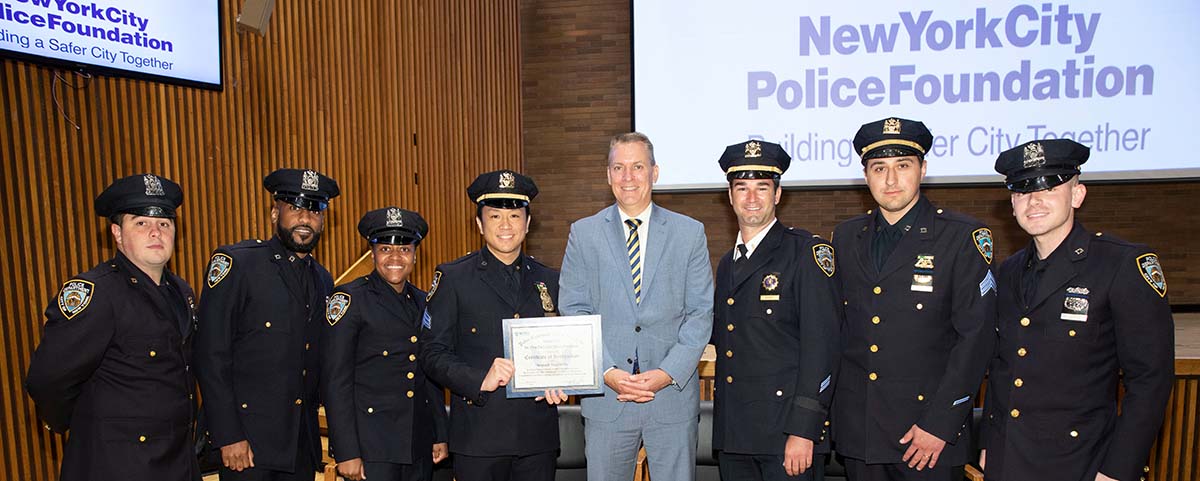 08 Jun 2021

50 for 50 – Winners Announced

The New York City Police Foundation today announced the first 22 winners in its $1 million grant program to create innovative new projects at NYPD precincts. Among the winning innovations are those to promote engagement between police officers and kids, officer wellness, strengthen community engagement, honor fallen officers, and more.

Known as "50 Grants for 50 Precincts," the competition, launched in January 2021, has to date received 175 submissions for ideas that serve the needs of police precincts and their surrounding communities. By the time it's complete, the Foundation will finance 50 recipients, each of whom will receive up to $20,000-a-piece.

Launched in celebration of the Police Foundation's 50th anniversary, the first wave of projects includes:
At the core of our community partnerships is cops working with kids, and today's announcement showcases those relationships across the city. The grants being delivered by the New York City Police Foundation will help sustain this critical work and I thank the Foundation for its unwavering commitment to our common good.
-Police Commissioner Dermot Shea
Wonderfully Made, Community Affairs Bureau, School Safety Division: An expansion of the Foundation's Options career development program, this eight-week special workshop was created for Options participants, ages 12-19, who expressed interest in developing a wig-making business for the community.

Love All & Hate No One Project, Patrol Borough Queens South: Youth will create, paint, and design art work at their community playgrounds.

Visions of Harmony, 17th Precinct in Manhattan: Police Officers will work with students from the High School of Art and Design to host an art contest. The winner will decorate the garage door of the precinct and community members will be invited to unveiling ceremony.

Brian Simonsen Youth Field Day, 102nd Precinct in Queens: To honor and remember Detective Brian Simonsen, who volunteered as a coach and mentor, the 102 Precinct is hosting an annual Field Day of sports and athletic activities for several schools and community members.

Cops Care for Kids, Staten Island: This effort supports families with children who have disabilities. This program includes a toy drive for children in hospitals, adaptive field day for children with disabilities and other activities.

Youth Summer Camp, Staten Island: Officers in Staten Island, working with youth, have organized a summer camp that 50 kids will attend.

WAVE (Women Against Violence Emerge), Housing Bureau Public Service Area 4 (PSA4): Created in 2017, the WAVE program connects domestic violence victims with fellow survivors. Meeting are facilitated by Domestic Violence Officers, and held 3-4 times a month. PSA 4 will decorate meeting space to create a more welcoming environment for the participants, and to expand the program to other commands.

Unity: Kids of the future, 13th Precinct in Manhattan: The program includes multiple police-community engagement activities such as offering classes to youth in Administration of Children's Services to promote physical and mental wellness at the YMCA.

Men of Honor Father's Day Event, Community Affairs, Bronx Outreach Division: The Community Affairs unit in the Bronx will host an afternoon of music, food, games and more to honor, empower and support community members who are fathers and their families.

Employee Assistance Unit (EAU) Police Therapy K9: The EAU will add two therapy dogs to its Unit to enhance its work with NYPD employees and support the department's commitment to mental health supports.

The Ryer Avenue Wellness Project, 46th Precinct in the Bronx: Working with Montefiore and the NYPD Wellness Unit, the 46th Precinct will create a model program for both the officers working in the 46th Precinct and the community in the area. The program will include mobile wellness events featuring experts who will also work with both police officers and members of the community to improve their own wellness.
Proposals for the "50 Grants for 50 Precincts" program are evaluated by a committee led by Foundation Trustee, Phil Ozuah, MD, PhD, President & CEO of Montefiore Medical Center, consisting of representatives from the NYPD, Police Foundation Staff and Board of Trustees, to determine the grant winners. The remaining grants will be awarded on a rolling basis throughout the year, with implementation extending through 2022.
These grants are a great demonstration of how the New York City Police Foundation has supported New York's Finest for the past 50 years. It is clear the grant applicants were enthusiastic about advancing new programs that benefit both local precincts and communities.
Andrew Tisch, Chairman
We have been impressed with the depth and breadth of the grant applications that have been submitted. We are looking forward to supporting these initiatives and seeing the near-and long-term benefits to all New Yorkers.
Susan Birnbaum, President & CEO