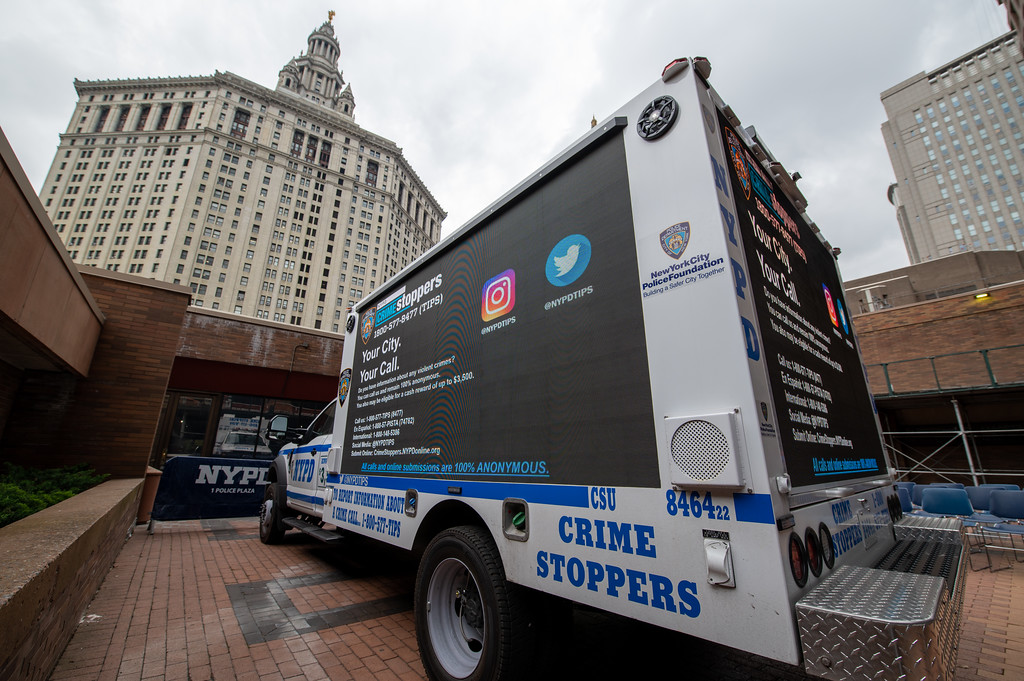 27 Apr 2023

Crime Stoppers Press Conference

On April 27, 2023, the New York City Police Foundation and the NYPD unveiled the newest Crime Stoppers truck to join the NYPD fleet at Police Headquarters and invited reporters inside the Crime Stoppers Squad Room for an inside look at how the program works. For over 40 years, the Crime Stoppers program has been an invaluable crime-fighting tool in the shared work of making New York a safer city. As of April, more than $3 million in rewards have been approved and awarded to anonymous tipsters who provided information to the 1-800-577-TIPS hotline.

How Crime Stoppers works:
Crime Stoppers started in 1983. Since 1985, the New York City Police Foundation has administered the program, distributed rewards, and coordinated public campaigns to encourage awareness.
To ensure the anonymity of callers and maintain rewards, Crime Stoppers can't be funded through traditional police resources. The Police Foundation relies on donations to support the program's rewards and public education efforts.
Dedicated NYPD detectives assigned to the Crime Stoppers unit are available 24/7 to receive and assess tips.  Phone numbers, e-mail addresses and IP addresses are never captured, tracked, or saved, and the only information disseminated through the proper investigative channels is crime and suspect information.
Crime Stoppers gets results for the city:
A year ago, multiple tips helped lead to the arrest of a man who shot ten victims onboard a New York City subway train car in Brooklyn. $50,000 in reward money was divided between the tipsters.
In 2019, information made by a tipster to Crime Stoppers helped the NYPD find the remains of a missing 37-year-old woman. An arrest was made and a conviction secured in connection to the case.
A tip to the hotline in 2013 led to an arrest for the murder of a 4-year-old girl known as "Baby Hope"- a cold case of 22 years.
Crime Stoppers also helps the NYPD apprehend criminals abroad through an international hotline; most recently an international tip led to the arrest of an individual who had fled to Chile.
Today, we unveiled the Crime Stoppers truck. This latest innovation in public safety was donated by the @nycpolicefdtn and provides a direct appeal to the community for help in solving violent crime, while providing officers real time information at the scene.

Thank you to the… pic.twitter.com/9pqgwb0Jxa

— Commissioner Sewell (@NYPDPC) April 28, 2023
If anyone has information about a crime and would like to provide it to the NYPD anonymously, they can call 1-800-577-TIPS. Information providers can receive up to $3,500 for a tip that leads to an arrest and indictment. The Crime Stoppers Program will never ask information providers for their name, will not record calls, and will not trace tips submitted by phone, email, or online. Information providers will not have to make a statement to police and will not appear in court.